NORTHWEST TERRITORIES
BY: CHRIS

Northwest territories became a Canadian territory on July 15,1870. Yellowknife is the capital of the Northwest Territories. Yellowknife is also the province's largest city. The provincial flower is the Mountain Avens. The provincial bird is the gyrfalcon. There are about 55 000 people living there. It is the largest of any Canadian province or territories.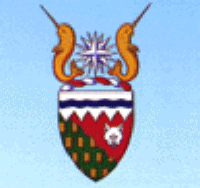 THE TERRITORIAL COAT OF ARMS
The territorial coat of arms has two gold narwhales sitting at the top guarding a compass rose which is symbolic of the magnetic North pole. The white at the top represents the polar ice pack. The wavy blue line crossing the white area represents the Northwest passage. The colour green represents the forests and the red represents the Barren Lands. The line between the red and green areas stand for the tree line. The gold bars on the green represent the territories' mineral wealth. The white fox represents the fur industry.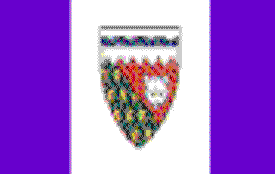 THE TERRITORIAL FLAG
The Northwest Territories' flag has a blue and white background. The blue panels at either side of the flag represent the lakes and rivers of the territories. The white center panel represents the ice and snow. The territorial coat of arms is found is the middle of the white panel.
THE GYRFALCON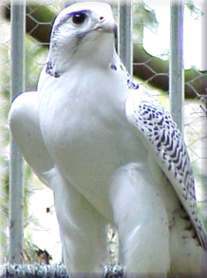 The gyrfalcon is the largest of the species and it is the Northwest Territories territorial bird. It grows to a length of 61 centimeter (2 feet). Most gyrfalcons have white or gray colouring. The gyrfalcon has a hooked beak and powerful feet. It is an exceptionally powerful flier.
THE MOUNTAIN AVENS
The mountain avens is the territories' territorial flower. It is a hardy plant that grows wild in the northern and artic regions. The mountain avens has small, yellow or white flowers that are shaped like saucers. It likes to grow on high ledges and rocky slopes.
PHOTO GALLERY
| | |
| --- | --- |
| | |
| Arctic Fox | Musk Ox |
| | |
| Narwhale | Polar Bear |
| | |
| Fireweed | Northwest Territories' Flag |
| | |
| NORTHWEST TERRITORIES COAT OF ARMS | MOUNTAIN AVENS |