British Columbia
By Terry and Curtis

Animals of British Columbia
Did you know that British Columbia has the most wild animals? Some of the animals are the Lynx, mountain goats, bears, caribou, deer, sheep, elk, moose, beaver, marten, Grouse and the pheasant. One-quarter of the world's bald Eagles nest in British Columbia. The people that lived on the coast hunted sea lions and other sea mammals for food. A Lynx in B.C. licks her chops after a meal.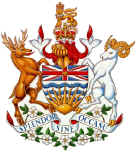 The flag and coat of arms

British Columbia's flag is a cross with a crown in it and blue wavy lines and a sun at the bottom. The coat of arms says Splendor Sine Occasu. The British coat of arms has a deer and a mountain goat holding it up. On the top there is a lion with a crown. In the middle is the British flag.
When the gold rush was on
In 1858 there was a gold rush at the Fraser River. About the same time, gold prospectors came to the area, excited by the possibilities of striking it rich.
British Columbia's flower
These plants are called pacific Dogwood.
The Pacific Dogwood is also British Colombia's floral emblem.
The night sky
In the night the sky is lightened by millions of shining lights.
On the lake
Sail boats glide across Kootenay Lake in southeastern B.C.
The olden days
In 1778 Captain James Cook anchored on Vancouver island. James Douglas saw Fort Victoria be constructed. In the 1850's Fort Victoria was a big community. Totem poles outside many homes showed symbols of the clans living inside. Hole-through-the-ice in the village of Kitwancool, is the world's oldest standing totem pole. In the late 1800's, a narrow road cut through the thick forests that once grew where Vancouver now lies. About the same time, work crews were building railroads across the province. Vancouver's Chinatown was the center of activity in the late 1800's.
Where it's located
British Columbia is on the west coast of Canada. It boarders the Pacific Ocean, Alberta, the United States and the territories.
How many People
There are about 3,244,100 people living in British Columbia.
The largest city
The largest city in British Columbia is Vancouver.
The Provincial Bird
The provincial bird is called the Steller's jay. The provincial bird has a crest on it. It is blue with a black head.
The mountains
The high hills of M.T. Robson rises up to 12,972 feet and (3,954 m) making the highest peak in the Canadian Rockies. Colourful wildflowers cover the meadows during spring time. The most popular activity is going skiing and fishing..