Any sudden drop of water from a higher level to a lower one is called a waterfall.
Waterfalls form in places where rocks are soft in one place and hard in another place
Angel Fall's in eastern Venezuela is the highest waterfall in the world. It has a height of 979 meters.
If it is a large waterfall it's called a cataract.
By Krista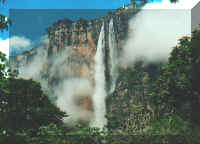 Click to see a larger photo.